Specials available May only – submit your information to claim & request your appointment!
¡Ofertas disponibles sólo en mayo – envíe su información para reclamar y solicitar su cita!
---
Introducing Plated SkinScience: Exosomes Products
10% Off
Presentando Plated SkinScience – 10% de descuento en productos Exosomas de Plaquetas para una curación avanzada
We're proud to consistently be on the cutting edge of anti-aging, with a dedicated focus on regenerative medicine. Today, Dr. Alkadri is one of the first adopters of Plated SkinScience, a revolutionary, FDA-approved skincare collection that heals from the outside in. May only, receive 10% off these products (and check out our other specials below for treatments where they can be added on for improved healing and results).
This isn't just another basic skincare line. These products are the first and only to harness platelet exosomes and introduce them to the skin in an effective, consistent application.
Those exosomes are responsible for cell regeneration and healing, and they make a profound improvement in our skin's appearance and health.
Plated products are FDA-approved, having been thoroughly evaluated and proven clinically effective.
The result is improvements in redness, wrinkles, skin tone, brown spots, and overall glow – for patients in every age range.
Estamos orgullosos de estar siempre a la vanguardia de la medicina antienvejecimiento, con especial atención a la medicina regenerativa. En la acutalidad, el Dr. Alkadri es uno de los primeros en aplicar Plated SkinScience, una colección revolucionaria para el cuidado de la piel, aprobada por la FDA, que trata la piel desde el exterior hacia el interior.
---
Nonsurgical Mini Lift – $2200
Includes 6 threads + 1 vial of Sculptra
– Add Botox – $400
Mini Lifting No Quirúrgico – $2200
Incluye 6 suturas + 1 frasco de Sculptra
– Agrega Botox – $400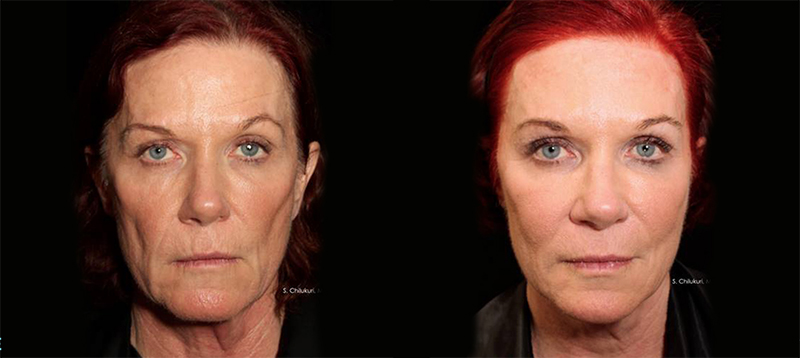 Before and after Silhouette InstaLift
Before and after Sculptra
Achieve similar results to a surgical facelift with noninvasive, minimal downtime procedures. Threads and Sculptra deliver both immediate results and long-term collagen stimulation for gradual, natural-looking anti-aging. Learn whether this might be right for you with a complimentary consultation – and save on your treatment package this month.
Consiga resultados similares a los de un lifting quirúrgico con procedimientos no invasivos y de mínimo tiempo de recuperación. Hilos tensores y Sculptra ofrecen tanto resultados inmediatos como estimulación del colágeno a largo plazo para un antienvejecimiento gradual y de aspecto natural. Descubra si es el tratamiento adecuado para usted con una consulta gratuita y ahorre en su paquete de tratamiento este mes.
---
Rejuvenation Package – $1200
VI Peel
Microneedling with PRP, HA, or Vitamin C Facial
Plated SkinScience Products
Paquete Rejuvenecimiento – $1200
VI Peeling, Microneedling con PRP, HA, o Facial de vitamina C, Productos Plated SkinScience
Before and after 3 VI Peels – Precision Plus
Before and after 12 weeks of Plated SkinScience product use
Clear sun damage before the summer arrives – put your best, healthiest face forward. VI Peels, microneedling and our newest product line, Plated SkinScience, will deliver comprehensive anti-aging results.
Elimine los daños causados por el sol antes de que llegue el verano y muestre su mejor cara. VI Peel, microneedling y nuestra nueva línea de productos, Plated SkinScience, ofrecerán resultados antienvejecimiento completos.
---
Hair Restoration Package – $2200
PRP 20 cc x 3 sessions
Special hair growth cocktail
– Add Exosomes for hair – $200
Paquete de restauración capilar – $2200
PRP 20 cc x 3 sesiones
Cóctel especial para el crecimiento del cabello
– Añadir Exosomas para el cabello – $200
Before and after PRP hair restoration
Use your own platelet rich plasma for healing and hair restoration. PRP triggers the body's own healing mechanisms to stimulate cell growth and revitalize the treatment area. PRP injections for hair restoration can be combined with hair growth drugs and our revolutionary Plated exosome-rich products for the best possible results. Schedule a consultation to speak with Dr. Alkadri and learn more.
Utilice su propio plasma rico en plaquetas para la cicatrización y la restauración capilar. El PRP activa los mecanismos de curación del propio organismo para estimular el crecimiento celular y revitalizar la zona tratada. Las inyecciones de PRP para la restauración capilar pueden combinarse con fármacos para el crecimiento del cabello y con nuestros revolucionarios productos ricos en exosomas Plated para obtener los mejores resultados posibles. Solicite una consulta para hablar con el Dr. Alkadri y obtener más información.
---
Spider Veins
Consultation and 1 Treatment: $495
Arañas Vasculares
Consulta y 1 Tratamiento: $495
Discover noninvasive laser treatment for frustrating spider veins across the face or body. Dr. Alkadri uses Excel V to target and eliminate spider veins safely & effectively, without surgery.
Descubra el tratamiento láser no invasivo para las frustrantes arañas vasculares en la cara o el cuerpo. El Dr. Alkadri utiliza Excel V para tratar y eliminar las arañas vasculares de forma segura y eficaz, sin cirugía.
---
Schedule Your Appointment
We are located at 18 W. 1st St. in Hinsdale, inside Energie Pilates Fitness Spa.