*
We all experience the aging effects of time. We grow frustrated with sagging skin, hoping to combat jowls, neck wrinkles, smile lines, marionette lines and other changes to our facial structure. But we're not all ready for a facelift – or ever interested in the expense and the surgery involved in that procedure. Fillers and noninvasive radiofrequency and ultrasound tightening options are well and good, but they either require frequent maintenance or have extremely subtle results. There has to be a better option.
With Silhouette InstaLift, that better option has arrived. This minimally invasive treatment option delivers immediate and ongoing results with just a lunchtime procedure.* Thread lifts are rapidly growing in popularity to become one of the most popular and cutting edge nonsurgical cosmetic treatments – and you could be an ideal candidate.
At two weeks, the majority of patients rated themselves looking 4-5 years younger.
– Silhouette InstaLift Study
What is a Thread Lift?
Thread Lifts are the latest technology available to improve skin laxity and regenerate collagen. Silhouette InstaLift has unique benefits that Dr. Alkadri will tailor to best suit your personal needs and aesthetic goals.*
What is the thread lift procedure like?
The Silhouette InstaLift procedure takes between 30-45 minutes.
Dr. Alkadri discusses your anti-aging goals and determines the ideal placement of your InstaLift sutures.
Dr. Alkadri marks out a precise treatment map by marking the areas on your face where skin lifting is desired.
The treatment area is numbed with a local anesthetic to prevent discomfort.
Once you are numb, Dr. Alkadri gently inserts a needle and guides the attached thread through the skin's subcutaneous tissue, at a depth of 5mm. The needle is extracted at a predetermined exit point and leaves the sutures within the skin.
The sutures' bi-directional absorbable cones (pictured below) hold them in place.
Dr. Alkadri performs a gentle facial massage to create immediate lift.
You are are typically able to return to your regular activities with minimal to no downtime.
In the months after treatment, results continue to improve as the sutures are broken down by the body, stimulating collagen in the treatment area.*
Thread lift benefits
Silhouette Instalift offers Dr. Alkadri's patients these unique benefits –
Excellent for a wide range of candidates hoping improve sagging skin, most typically men and women anywhere between the ages of 35-70 with moderate skin laxity in the mid-face
Provides both immediate lifting and ongoing collagen regeneration, for results today and in the future
Minimally invasive with little to no downtime – no surgery or general anesthesia, and significantly less recovery than a traditional facelift
Far more affordable than a surgical facelift
Absorbable sutures dissolve naturally over time without visible scarring
Appropriate for a range of areas across the face, including the cheeks, jaw line, and neck
Natural-looking results supported by the body's own collagen growth
FDA-cleared in April 2015, safety supported by thorough clinical studies and satisfied patients*
Before & After Thread Lifts with Silhouette InstaLift
*
*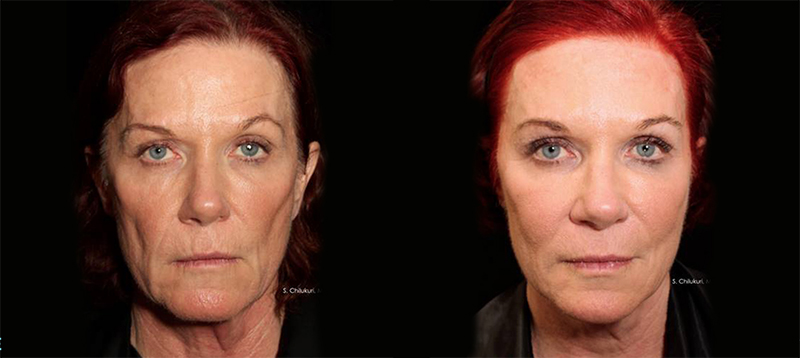 *
*
*Disclaimer – please note that results may vary from person to person. There is no guarantee of specific results.
Frequently Asked Thread Lift Questions
What are the side effects?
You may experience side effects including bruising, inflammation, and minor pain. There may also be a slight pulling on or pucker of the skin where the thread is placed but this will subside.*
Who is the ideal thread lift candidate?
Ideal candidates for Silhouette InstaLift are typically above 35 years of age and experiencing mild to moderate skin laxity in the middle to lower face (the jowls, cheeks and jawline). Patients who are very thin or have especially thin skin may not be good candidates as there needs to be enough tissue for the sutures to be placed.
What happens to the threads / sutures?
The InstaLift sutures are gradually broken down and eliminated by the body over time, without visible scarring being left behind. Sutures consist of glycolide / L-lactide (PLGA), a polymer that is used in many medical devices and is well tolerated by the human body.*
How long does a thread lift take?
Silhouette InstaLift typically takes between 30-45 minutes to complete, with little to no downtime following treatment.*
Does Silhouette InstaLift hurt?
There is minimal discomfort during treatment. The needle's entry and exit points are topically numbed before the procedure. The sutures are also placed in a superficial layer of the skin that is not sensitive to discomfort. Patients most often experience a subtle pulling sensation during treatment.*
How long does a thread lift last?
Each patient is unique and their thread lift results will vary depending on the number of sutures used and their skin laxity. Receiving other anti-aging treatments also helps to prolong the results. Results typically last anywhere from 12 to 24 months.*
How much does a thread lift cost?
The number of threads will vary depending on the area targeted.
Should I get a thread lift or a facelift?
It's important to note that Silhouette InstaLift is not a substitute for a facelift. The two procedures have very different outcomes, with a facelift delivering more dramatic results. But InstaLift is ideal for patients interested in achieving a lifting effect for skin on the mid to lower face, without having a surgical experience.* Thread lifts are also far more affordable than facelifts and represent an ideal middle ground for patients hoping for something more extensive than injectables but less involved than surgery.
InstaLift patients also see excellent results when they combine a thread lift with other anti-aging treatments.*
If you're interested in learning more about thread lifts, schedule a complimentary consultation with Dr. Amjad Alkadri. He will tell you more about treatment and evaluate your skin to determine which treatment options might be best for your goals.
*Disclaimer – please note that results may vary from person to person. There is no guarantee of specific results.